Welcome to the Suffolk Branch of Butterfly Conservation
Butterfly Conservation is a registered charity dedicated to the conservation of butterflies and moths

Events for 2017
These are now on the Events page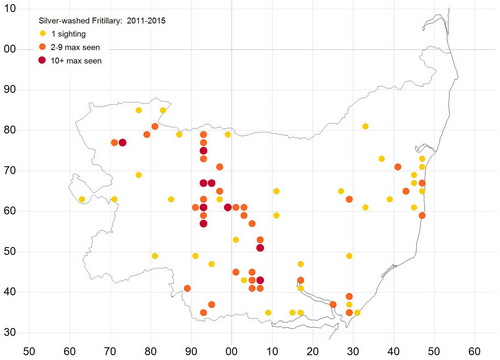 Distribution Maps for Suffolk Butterflies 2011-2015

The Suffolk Butterfly Recorder, Bill Stone, has prepared distribution maps for 2011 - 2015 for all the butterflies that can be found in Suffolk. For anyone who has the maps produced 15 years ago* they show significant differences for some species. For example the Wall is now almost entirely restricted to the coast and the Silver-washed Fritillary was not present in Suffolk.

Click here for the new Distribution Maps

*The Millennium Atlas of Suffolk Butterflies, 2001, by Richard Stewart. Published by Suffolk Naturalists'Society. £5 from SNS [You can order from Ipswich Museum by phone, 01473 433547].




You can also see the UK distibution maps for the most recent five-year survey of the Butterflies for the New Millennium (BNM) recording scheme (2010-2014).
Click here to download the Atlas of UK Butterflies 2010-2014 in pdf format (11 MB).

Increase Your Donation by 10 times

A donation to the Match Pot Appeal today could be worth 10 times more to threatened species, thanks to the Landfill Communities Fund (LCF).

Click here to go to the national Butterfly Conservation website to make your donation.

Each £1 you donate becomes £10
Next Local Events -

Saturday 11th March - MOTH EVENT
Suffolk Moth Group - Annual indoor meeting
Talks, discussions and workshops
This date is not on the Events Card. For full details see http://www.suffolkmothgroup.org.uk/blog/
Bucklesham Village Hall TM242417
10.30 am to 5.00 pm

Sunday 30 April BUTTERFLY WALK
Early Butterflies in Ramparts Field (Suitable for novices)
Fieldwork & Photography
Meet: Ramparts Field car park, close to West Stow Country Park
Map Ref: TL788714
Time: 10:30 to 12:30 approx.
Contact: Rob Parker on 01284 705476



Wider Countryside Butterfly Survey (WCBS)

The WCBS is a national scheme which complements the transects of the UK BMS with mini transects walked in squares randomly selected by the BTO computer. Volunteers from Butterfly Conservation and the BTO need to walk just twice per year in July and August (with an optional spring walk if you wish). This means that the commitment is not heavy.

We have eight squares in need of a volunteer
OS Grid Reference, Town/Parish, Post Code
TL7573 Icklingham IP28 6PZ
TL9479 Coney Weston IP31 1HL
TL9577 Coney Weston IP31 1DL
TM0969 Wickham Skeith IP23 8LX

Email our WCBS co-ordinator, Twm Wade to volunteer for one of these squares

Download the 2015 report

BMS - Butterfly Monitoring Scheme
BTO - British Trust for Ornithology

40 year slump for UK Butterflies

More than three-quarters of the UK's butterflies have declined in the last 40 years with some common species suffering significant slumps, a major scientific study has revealed. A number of widespread species such as the Wall, Essex Skipper and Small Heath now rank amongst the most severely declining butterflies in the UK.

The findings also reveal that intensive conservation efforts have started to turn around the fortunes of some of the UK's most endangered butterflies. During the last 10 years the numbers of the threatened Duke of Burgundy have increased by 67% and the Pearl-bordered Fritillary has experienced a 45% rise in abundance. Dingy Skipper and Silver-studded Blue have shown 21% and 19% increases in occurrence respectively and even the UK's most endangered butterfly, the High Brown Fritillary, has been relatively stable in the last decade.

But despite breakthroughs with some threatened butterflies the report revealed that other species continue to struggle. The long-term decline of the Wood White, White Admiral and Marsh Fritillary show few signs of stopping.

Download in pdf format the full 'State of UK Butterflies 2015' report here


Join Butterfly Conservation - click here to go to the National Butterfly Conservation website to join.

Do we have your email address?
It will help us to communicate changes to events (as above) if we have your email address.
Please email your name to using your normal email address and email address as the subject. This can then be added to our membership list.

Follow us on Twitter.
But still send your sightings to

When to See Butterflies.

The Suffolk Butterflies page lists the butterflies that can be seen in Suffolk, shows when you can expect to see them and the foodplants upon which their caterpillars feed.
We can also help if you would like advice about making your garden more attractive to butterflies

See the News page for dates of First Sightings

Like much of the UK, Suffolk's countryside and wildlife are under increasing pressure. It's a situation that is unlikely to improve in the forseeable future and there's never been a more urgent need to understand and conserve our butterfly fauna. The county has a gently undulating landscape of surprising contrasts, defying the stereotype of "flat East Anglia and its arable prairies". The unspoilt coast, intimate river valleys and, especially, the Sandlings heaths and Brecks ensure that Suffolk retains a more varied butterfly fauna than might be expected.

Some recommended books are listed here


Butterfly Records.

The Branch is always grateful for butterfly records and a recording form can be downloaded from the recording page of this website.
We would be particularly grateful for records away from the coast and information on the following species:
Dingy Skipper, Green Hairstreak, Purple Hairstreak, White Letter Hairstreak, Silver-studded Blue, Wall Brown, White Admiral, Silver-washed Fritillary, Grayling and Small Heath.

email your sightings to us at

Recent Sightings can be viewed here


Conservation and Recording

Brimstone - about the Brimstone and Buckthorn project
Help us to record Brimstone butterflies in Suffolk

Silver-studded Blue - links to more information
Translocation to Blaxhall Common - 2012 Update




Ecological Survey of Selected Silver-studded Blue Sites in 2009

Silver-Washed Fritillary - link for more information
Silver-washed Fritillary returns to Suffolk

Purple Emperor - link for more information

Ipswich Heaths Project - a new project, aimed at restoring lowland heathland habitat of 300 hectares on 14 sites in Ipswich, has been awarded a Wren Biodiversity Action Fund grant of over £100,000. More details here