Black Holes
Suffolk Butterfly Recording 2019- "Black-Holes"

In my recent 2019 letter to butterfly recorders (click here for text) I promised you details of the areas of Suffolk in which no butterflies were found during the period 2015- 2018, this being the first four years of the current five-year recording period for the Butterflies of the New Millennium recording scheme.

End June Update- Suffolk Butterfly Recording 2019- "Black-Holes"

Below is a map of the Suffolk recording area which shows the areas remaining as at end of June 2019 without any butterfly records i.e. "black-holes" that exist, these are shown by the dark-blue spots
<![if !vml]>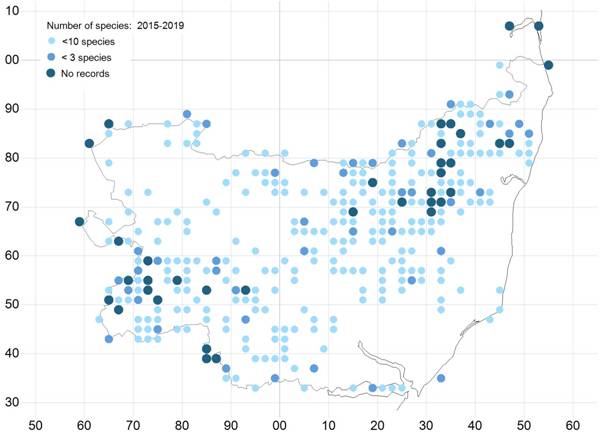 <![endif]>

Suffolk 2015-2018- Under recorded areas

Targets for specific recording

A list of the actual "black-hole" tetrads (2x2km squares) is given below and I would ask you all to try and visit as many of them as you can in 2019 to increase the overall butterfly species coverage for Suffolk.

Based on the above map the following tetrads in the table below should be visited in order to increase county coverage. 2019 represents the final year of the current five-year recording period for the Butterflies of the New Millennium recording scheme so this is an incredibly important year

Please note that access to some may be restricted due to the land being private or there may be no suitable footpaths. In addition, some involve inland waterways, are tidal or may simply be totally unsuitable for butterflies

However, in order to assist you with targeting key areas the maps following the table show 10km squares are those which require significant recording coverage

Bill Stone, Suffolk Butterfly Recorder, April 2019
Suffolk Black-Hole Tetrads


| | | | | | | | | | |
| --- | --- | --- | --- | --- | --- | --- | --- | --- | --- |
| | | | | | | | | | |
| TL6450 | TL6648 | TL6662 | TL6854 | TL7252 | TL7254 | TL7258 | TL7450 | TL7854 | TL8452 |
| TL9252 | | | | | | | | | |
| | | | | | | | | | |
| TM1468 | TM1874 | TM2470 | TM3068 | TM3070 | TM3072 | TM3270 | TM3276 | TM3278 | TM3282 |
| TM3286 | TM3472 | TM3478 | TM3486 | TM3684 | TM4482 | TM4682 | TM5498 | | |
| | | | | | | | | | |
| TG4606 | TG5206 | | | | | | | | |
TL6450 - Temple End Little Thurlow, North and South, path and road, good access
TL6648 - Great Thurlow, whole area, good access
TL6662 - Moulton, part of 'the heath' at Warren Hill, poor access
TL6854 - Great Bradley - good access
TL7252 - Stradishall, good access
TL7254 - Cowlinge, good access
TL7258 -
TL7450 - Hundon, good access
TL7854 - Stradishall, good access
TL8452 - Hartest, good access
TL9252 -
TM1468 - Thorndon, good access
TM1874 - Denham, good access
TM2470 - Wilby, good access
TM3068 - Badingham, good access.
TM3070 - Laxfield, fair access.
TM3072 - Laxfield & Ubbeston, good access.
TM3270 - Heveningham, good access.
TM3276 - Huntingfield & Lindstead, good access.
TM3278 - Chediston, poor access.
TM3282 -
TM3286 - Flixton & Bungay, good access.
TM3472 - Hevingham, poor access but could be interesting.
TM3478 - Chediston & Wissett, good access.
TM3486 - Ilketshall & Bungay, good access.
TM3684 - Ilketshall, good access.
TM4482 - Brampton with Stoven, good access.
TM4682 - West of Wrentham, good access.
TM5498 - Corton Cliff, 700 yards (640m) of clifftop walk near the caravan park.
| | | |
| --- | --- | --- |
| TL74-Area West and North of Clare | TL95-Area South of Bradfield villages | TM16-Area North and West of Debenham |
| TM17-Area East of A140 | TM26-Area North & West of Framlingham | TM27- All areas |
| TM37-All areas other than Halesworth town | TM38- Area bordering A144 and B1062 | TM 48- Area between A145 and B1127 |
The Old Black Hole Map

The previous map showed an OS map of Suffolk overprinted to show the density of records for the period 2010 to 2013. This is still available but we have been unable to produce the latest map in this way. To see the old map Click here and the map will open in a new window or tab.